Zana Al-Saloum
Class of 2021, Doctor of Dental Surgery (DDS) Program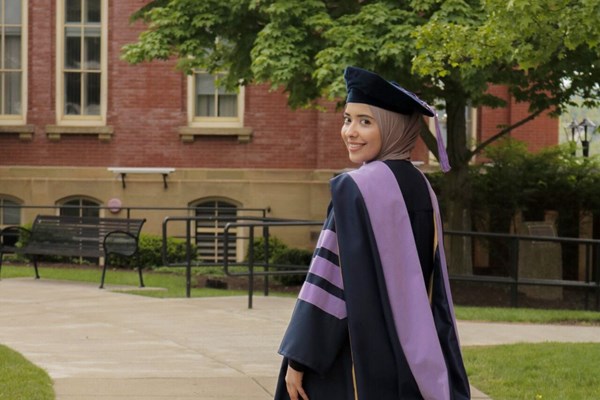 "I knew that dentistry, and the social and emotional aspects of a patient's life, can go hand in hand for most patients. However, when denture insertion day came and my patient began to tear up as he sincerely thanked me, I not only understood this concept, I felt it."
Zana Al-Saloum is a graduate of the dental school's D.D.S program - a member of the Class of 2021. She is a Syrian-American who was born and raised in Detroit, Michigan. She earned her a B.S. in honors Biology from Wayne State University located in downtown Detroit.
Talk about an experience you had during dental school that you will never forget.
One of the many strengths of WVU's D.D.S. program is how accessible rural sites are to students willing to serve the community early on in their clinical experience. During my first year in clinic, I was assigned a rural rotation for the day and was asked to start fabricating a denture. To many dental clinicians, fabricating a denture may seem like a simple, routine procedure. But to the patient, this was a huge deal. I knew that dentistry, and the social and emotional aspects of a patient's life, can go hand in hand for most patients. However, this was the first time I witnessed this connection. Aside from the esthetics, function, and mastication portion of dentistry, this was the first time that I understood the impact that my work could have on a patient's life. And, when denture insertion day came and my patient began to tear up as he sincerely thanked me, I not only understood this concept, I felt it. 
What would you tell someone who is considering WVU School of Dentistry?
Be ready to work really hard. There will be many sleepless nights; and, you may develop a pretty big coffee addiction. But, in the end, it is all worth it.
What was something you realized during dental school?
My entire life I have been in a rush to do the most in the shortest amount of time. In middle school, I skipped two grades. I graduated high school at age 16 as class valedictorian, with one year of undergrad already completed. In college, I pursued an honors biology degree and spent a great deal of my senior year doing research. I was used to being in a rush. It wasn't until dental school that I realized how important it is to slow down and completely absorb the information you are exposed to. With that comes a deeper understanding and appreciation for what you do.
What are you excited for next?
I will be starting a Residency in Prosthodontics at WVU.