Erik Gompers
, DDS
Class of 2020, Doctor of Dental Surgery (DDS) Program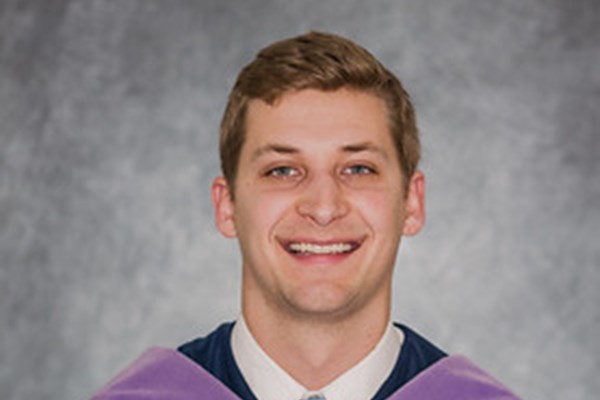 "Being able to work with patients and having the ability to transform their lives through dentistry has been the biggest reward of this program. I am proudest of the dentistry I have provided that has given my patients a new reason to smile and be healthy."
What is your name?
Erik Gompers
Where is your hometown?
Wheeling, West Virginia
What did you study as an undergraduate and where did you study?
Biology with a minor in psychology, WVU
What made you want to earn your DDS?
I always wanted to help people and help them live healthy lifestyles. I really enjoyed hands-on work and being able to interact with people throughout the day, so dentistry checked off all of my boxes for a career.
Why did you choose WVU School of Dentistry?
WVU is my home; I take great pride in being a West Virginian and I knew what a great dental school they had here. I thoroughly enjoy having the ability to give back to the state through the dental clinic.
What part of the program has been a favorite and why?
Being able to work with patients and having the ability to transform their lives through dentistry has been the biggest reward of this program. I really appreciate how much clinical exposure we have here at the school.
What do you take pride in from your experience at WVU School of Dentistry?
I am proudest of the dentistry I have provided that has given my patients a new reason to smile and be healthy.
What are your plans after WVU School of Dentistry?
I plan to continue my dental education with a three-year residency program in orthodontics at the University of Buffalo in New York. After that, I plan to move back to West Virginia and start my dental career.
Describe your rural rotation experience and how you think it benefitted you.
Rural was a fantastic experience. It really improved my clinical speed and time management skills while in the dental operatory. Having a full schedule and seeing patients all throughout the day really made you feel like you were ready to become a dentist. It was also beneficial to observe how a successful office run, and all the important aspects of private practice that you don't typically get exposed to in school.
What hobbies do you enjoy outside of school?
I enjoy reading, golfing, fishing, and going on walks with my fiancée, Julia, and our dog, Millie. I also enjoy spending time with friends and going out and experiencing new events around the community.
What is something people would be surprised to learn about you?
I am near fluent in Spanish.
What would you tell someone considering WVU School of Dentistry?
I think WVU is one of the best dental schools in the country. I like the smaller class size because you get more experience in the clinic and there are enough patients for everyone to become clinically competent.