Alli Bauer
, BS
Class of 2020, Bachelor of Science Program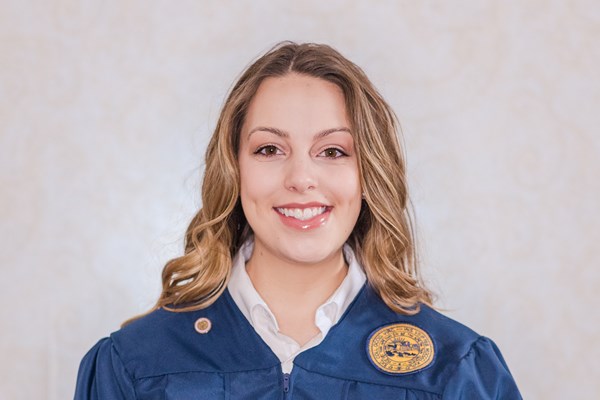 "WVU partners with dentists in the state to give students the opportunity to gain clinical experience while participating in a rural rotation. This was a great experience and something I am proud to have been a part of."
What is your name?
Alli Bauer
Where is your hometown?
Wheeling, WV
What made you want to earn your BSDH?
I wanted to pursue a career in dental hygiene  since I graduated from high school. While growing up I enjoyed seeing my hygienist and believe that the hygienist can make or break a dental office.


Why earn your degree at WVU?
I first wanted to be part of the Mountaineer family. I then learned what a competitive Dental Hygiene program WVU has and knew I was in the right place. 
What particular part of the program has been your favorite and why?
I'm proud to be part of a program that gives back to the community. WVU partners with dentists in the state to give students the opportunity to gain clinical experience while participating in a rural rotation. This was a great experience and something I am proud to have been a part of.
What are your plans after graduation?
I plan to work as a clinician in a dental office and further enhance my dental hygiene career in myofunctional therapy. 
What is it like providing direct patient care after just two years into the program?
It was intimidating at first, but it was also comforting to have faculty and classmates there with you every step of the way. In addition, it is rewarding because you get to utilize what you have learned in that short two-year period. It also shows that our faculty trusts us and wants us to do well. 
What school related events or activities did you enjoy most and why?
Attending the home football games on the weekends was my favorite activity to participate in as a Mountaineer because it is an experience like no other. 
Describe your rural rotation experience and how you think it helped you. 
I had a great experience during my rural rotation. I learned a lot and felt more confident when returning to the school clinic in the fall after completing my rotation. My rural rotation also allowed me to establish lasting connections with certified professionals in my field. 
Where will your BSDH take you after you graduate?
I am looking forward to moving back home and finding a job close to my family. 
What hobbies do you enjoy outside of school?
Other than studying, I like hanging out with my friends and binge-watching shows on Netflix.
What would you tell someone considering WVU School of Dentistry's dental hygiene program?
The best advice I can give to someone considering WVU School of Dentistry is to schedule a visit to see first-hand what the school has to offer.