Kerri Simpson
, DDS, MS
Class of 2020, Periodontics and Dental Implant Surgery Program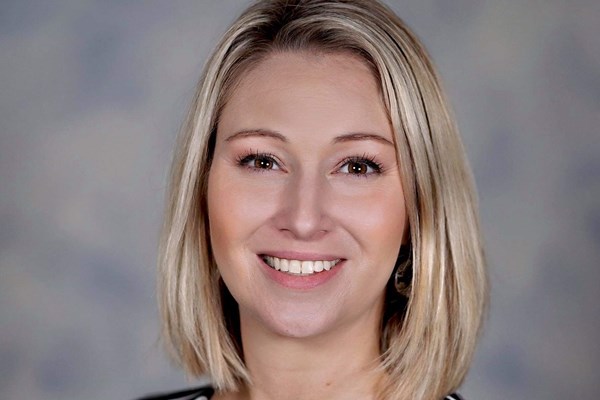 "Your time at WVU School of Dentistry is like none other. The small class sizes foster learning and collaboration and allows more personal relationships with your faculty. You get greater hands on experience, both in pre-clinic and patient care."
What is your name?
Kerri Thomas Simpson
Where are you from?
Morgantown, WV
What is your educational background?
BS, BSDH, DDS, MS
Where did you study?
Undergraduate degrees: Boston University and West Virginia University
Dental Training: West Virginia University
Post-graduate residency: West Virginia University
Dental hygiene graduation: 2013 (Valedictorian)
Dental school graduation: 2017
Do you have additional training or credentials?
National Ski Patrol, EMR, EMT, FACD
What are your professional interests and specialties?
Implants in esthetic zone, soft tissue grafting, guided tissue regeneration
What made you decide to pursue a career in dentistry?
I actually took the long way around to get into dentistry, and I wouldn't change any of it for the world. I started into medicine and research and developed a passion for the oral-systemic link while performing research with my father on ventilator associated pneumonia. This started my career in oral health and my transition into dental hygiene, and from there my love affair with the dental profession took off.
Why do you enjoy dentistry (periodontics)?
I believe periodontics is the perfect blend of dentistry, surgery, and medicine. In periodontics, we can not only change the way a person feels about themselves by helping their smile, but also can help their overall systemic health by decreasing chronic inflammation. I love the relationships I form with my patients and the amount of time I get to spend with them at every appointment.
Why did you choose WVU for Periodontics?
To be completely honest, I was not planning on staying at WVU for my residency. I had already completed my hygiene and dental degree here, and I wanted a different experience. Then I met the new Chair of Periodontics (and director of my soon to be program), Dr. Gian Pietro Schincaglia, and I knew I would be getting a different experience. I spoke to several of his previous residents and everything they said was what I wanted in a program. It has been one of the best decisions of my life. It has definitely not been easy, but it has definitely been worth it.   
Can you speak other languages?
French (not fluent, but can get away with it)
What are your interests outside of dentistry?
I love to spend time outdoors (hunting, fishing, or hiking). In the winter I spend most of my free time skiing, and I ski patrol during the winter months at Wisp Resort. I love spending time with my husband, especially doing brewery excursions, and enjoy working on cars together ('84 Camaro project car is in our garage as we speak). I adore spending time with my family. Our second home is Vermont, and we try to make it there anytime we can.
What makes you unique?
This is a tough one, but I have been described as "a hummingbird on espresso with a gregarious personality", so I feel like that is a pretty unique statement. I believe that we are all unique in our own way, you just have to allow yourself to find it and show it. In a more literal sense, I am the first female ADA delegate for the state of WV, which I am very proud of, as well as the first dental student at WVU to win first place at the international research competition (SCADA).
What would you tell someone considering WVU School of Dentistry?
Your time at WVU School of Dentistry is like none other. The small class sizes foster learning and collaboration and allows more personal relationships with your faculty. You get greater hands on experience, both in pre-clinic and patient care, and you learn from faculty that have real world experience. The importance of organized dentistry and supporting the future of our profession is encouraged from day one, and it helps one realize the significance of such organizations. It is like a large family and you never feel alone in some of the most difficult yet rewarding years of your life. You will always remember the time spent between these walls and these experiences will mold you forever.