Paige Durkin
Class of 2022, Doctor of Dental Surgery (DDS) Program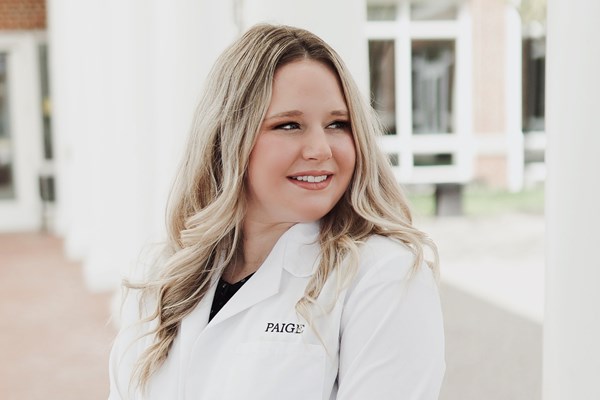 "Growing up with a physics teacher as my father and an art teacher as a mother, I had a passion for science and art. Dentistry truly is a science and an art. I love learning about dentistry, and placing restorations that can transform a smile."
Hometown
Wheeling, WV
Undergraduate Degree
Biology, West Virginia University 
What made you want to earn your DDS?
Growing up with a physics teacher as my father and an art teacher as a mother, I had a passion for science and art. Dentistry truly is a science and an art. I love learning about dentistry, and placing restorations that can transform a smile.  I had amazing mentors on my journey to DDS from my hometown, and I owe my dedication to dentistry to them.
Why did you choose WVU School of Dentistry?
I had a wonderful undergraduate experience at WVU.  Driving into Morgantown gives me a nostalgic feeling, and I love how the town beautifully transforms during each season change. From WVU football games to the best restaurants, I love living here!
What school related event or activity did you enjoy the most and why?
I loved to attend any conference trip through ASDA or Delta Sigma Delta.  My favorite conference was the Delta Sigma Delta national conference in Orlando. It was so amazing to meet fellow Delts from other school, and Delts in the graduate chapter.  It was even more amazing catching up with them at a following event, the Delta Sigma Delta Annual Regional Meeting in Michigan. 
What's next and why are you excited?
I will be joining Dr. John Kramer in Martins Ferry, Ohio as an associate dentist.  Dr. Kramer has been a great mentor to me ever since I began babysitting for him when I was 15 years old.  He introduced me to the field of dentistry and was a wonderful teacher before I even was accepted into dental school.  I am thrilled and lucky to be able to work with such an amazing mentor.
What was something you realized during dental school?
I would not have gotten through dental school without my amazing friends and classmates.  We became so close, and I am so thankful for each and every one of them.