Haley Cramer
Class of 2021, Bachelor of Science Program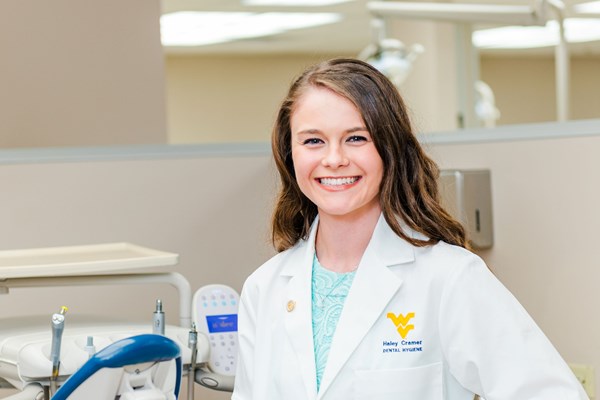 "I had an amazing experience on my rotation and improved my clinical skills. My site was in my home community, so I really enjoyed helping those individuals reach happy and healthy smiles."
Haley Cramer, of Albright, WV, will treat patients close to home. The 2021 graduate of the School of Dentistry dental hygiene program leaves school as an award winning provider. She received the 2021 Community Dentistry and Dental Public Health award. 
What made you want to earn your BSDH degree?
I wanted to help patients achieve a happy, healthy smile, and I love being able to help the community.  Dental hygiene plays a big role in helping others.
Did you have a favorite part of your program? What and why?
My favorite part of dental hygiene was the six-week rural rotation.  Rural rotation is typically held during the summer before senior year.  The class of 2021 was a little different because of COVID-19, so we had to complete the six-week rotation during September through October.  I had an amazing experience on my rotation and improved my clinical skills.  My site was in my home community, so I really enjoyed helping those individuals reach happy and healthy smiles.
What are you excited for next?
I am extremely excited to go back to my rural rotation site, in my home community, to work as a hygienist.