Nate Chertok
, DDS
Class of 2019, Doctor of Dental Surgery (DDS) Program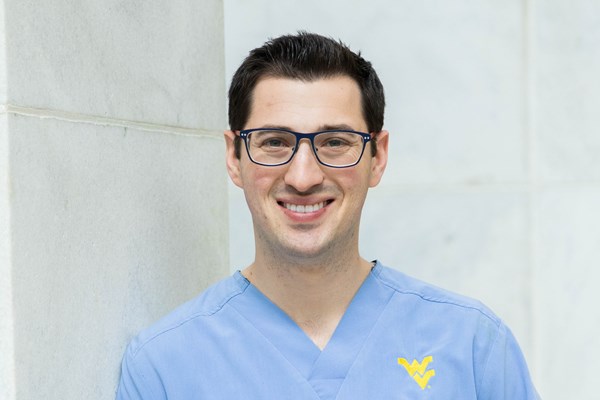 "I was really drawn to being at a school that provided care to rural and under-served communities! The small class size and great faculty to student ratio were also very attractive."
What is your name?
Nathaniel (Nate) Chertok
Where is your hometown?
Morgantown for the past 13 years, but I am originally from Israel
Where did you earn your undergraduate degree and in what?
I earned an undergraduate degree in Biology in Chicago, IL and then I earned a master's at WVU in Health Sciences.
What made you want to earn your DDS?
I have known that I wanted to be a dentist since high school. I loved the idea of helping people restore their smiles. 
Why do it at WVU?
The mission of the school was a major component for me. I was really drawn to being at a school that provided care to rural and underserved communities! The small class size and great faculty to student ratio were also very attractive. 
What particular part of our program has been your favorite and why?
I have truly enjoyed and benefited from the clinic experience at the school. We are exposed to a wide array of procedures that help create the well-rounded foundation that a dental school should provide. Providing comprehensive dental care to your family of patients and learning how to treatment plan are some of the most instrumental skills emphasized here. 
What is it like to be providing direct patient care after just 2 years into classes?
At first, to be honest, it was a little overwhelming. I had been practicing on plastic teeth and extracted teeth for two years, but as soon as the initial jitters went away, I felt extremely prepared. Finally getting to treat patients and put my skills to work was a rewarding and humbling experience. 
Where will your DDS take you after commencement?
I will be starting a residency in Prosthodontics at WVU. 
What hobbies outside of school do you have?
I do a little bit of woodworking, I enjoy road biking along the rail-trail. In addition, of course, I love playing and spending time with my daughter. 
 What would you tell someone considering WVU School of Dentistry?
If you are passionate about patient care and dentistry and want a great hands-on experience under the supervision and mentorship of committed and world-renowned dentists and specialists, I believe this is the place for you.