Megan Longwell
, BSDH
Class of 2019, Bachelor of Science Program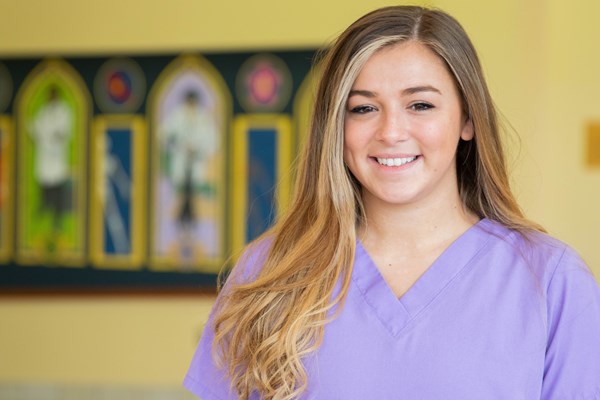 "Research the school, come take a visit, and you'll fall in love. Your classmates become your family and your faculty become your biggest supporters. I wouldn't change anything about the experiences I have gained."
What made you want to earn your BSDH?
I wanted to become a dental hygienist to make a positive impact on the public one person at a time. I want to be able to educate and change my patients' concepts of dentistry and oral health. The WVU School of Dentistry dental hygiene program gives many opportunities that other programs do not. By researching the program prior to enrollment, I knew that it was the school and program for me.
What particular part of our program has been your favorite and why?
My favorite part of the dental hygiene program was the six-week rural rotation we get to go on during the summer of our third year. I had an amazing experience learning a lot more for patient care and improving my clinical skills.
What made you the proudest while you were earning your degree?
My proudest moment happened when I traveled to my rotation at the Susan Dew Hoff Memorial Clinic in West Milford, WV. A patient came in who had a lot of calculus buildup fully covering all of the teeth way beyond what I've encountered before. It took quite a while, but at the end of the appointment the patient expressed how extremely happy and thankful they were for my time and service. Being able to see the before and after and how much I helped this patient made me feel proud and grateful to be in this field.
What is it like to be providing direct patient care after just two years into classes?
Diving into patient care after only 2 years in classes was scary at first. I was afraid I would mess up or not be good enough in clinic. Looking back, I realize no one is the perfect clinician on his or her first day, but the more clinical experience we receive the better we become. The education we receive prepares us well for seeing our first patients, and I knew that the faculty would help us succeed in clinic.
What would you tell someone considering WVU School of Dentistry?
If you're considering WVU School of Dentistry: research the school, come take a visit, and you'll fall in love. Your classmates become your family and your faculty become your biggest supporters. The dental students and hygiene students all help each other through the years. I don't regret choosing WVU, and I wouldn't change anything about the experiences I have gained.