Marcie Kanosky
, DDS
Class of 2020, Doctor of Dental Surgery (DDS) Program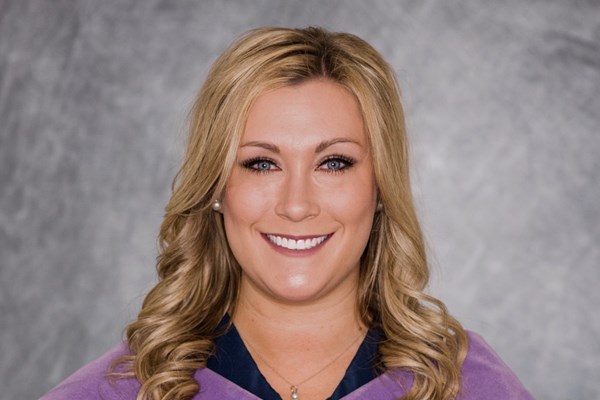 "I really enjoyed being involved in Delta Sigma Delta as president and visiting different dental schools and cities. I was also able to attend the national meeting in San Francisco and meet dentists from all over the world, including Queen Elizabeth's dentist."
What is your name?
Marcie Kanosky
Where is your hometown?
Morgantown, West Virginia
What did you study as an undergraduate and where?
Bachelor of Science, Animal and Nutritional Sciences
Bachelor of Science, Dental Hygiene
At WVU
What made you want to earn a DDS?
As a kid I always loved science and crafts.  Then having spent most of my teenage years in the dental chair getting my braces tweaked and tightened, my interest in the dental field sparked.  The confidence I developed from improving my smile made me want to be able to give that same self-confidence to others.
Why did you choose WVU?
WVU and Morgantown are my home and I wouldn't have wanted to be anywhere else. "Once a Mountaineer, always a Mountaineer"
What particular part of the program was your favorite and why?
My favorite part of our program would have to be the experience I've had at the CRET Innovation Center.  The Center for Research and Education in Technology (CRET) gave me the opportunity to work with cutting-edge dental materials and technologies.  Having exposure to these cutting-edge technologies that the ever-changing world of dentistry has to offer will be extremely valuable to my dental career in private practice.
What makes you most proud during your dental school career?
It's so hard to pick just one, but I would have to say it was our white coat ceremony.  This ceremony is done to recognize one of the most important milestones of our profession, becoming a dental clinician.  Dental school is challenging, and taking the next step into clinic is really exciting.  Being able to share that accomplishment with our families and friends is invaluable.
What is it like to provide direct patient care after just two years into dental school?
It's awesome! It can be a little nerve-racking at first, but we are so well prepared for it.
What school related events or activities did you enjoy the most and why?
I really enjoyed being involved in Delta Sigma Delta as the fundraising chair and president.  It gave me the opportunity to visit many different dental schools, see new cities, and meet fellow dental students across the country. I was also able to attend the national meeting in San Francisco and meet dentists from all over the world, including Queen Elizabeth's dentist!  Delta Sigma Delta was a big part of my time in dental school and I wouldn't have wanted it any other way.
Where will your DDS take you after dental school?
I'll be completing an Advanced Education in General Dentistry residency through East Carolina University in Holly Springs, North Carolina. After being in school for 10 years, I'm really looking forward to being done and having my own money (which I'm sure my parents are also excited about)!
What do you enjoy outside of dental school?
I love to travel!  During my four years of dental school I've gone to New York City, Atlanta, Cleveland, Miami, Buffalo, Phoenix, Sedona, The Grand Canyon, Columbus, Chicago, Charleston, SC, San Diego, Dallas, Waco, San Antonio, Puebla,Mexico, San Francisco, and Dallas/Waco a second time.  One of the most important things to surviving dental school is not giving up your hobbies! Always make time for them no matter what, and enjoy your four years in school.
What is something people would be surprised to learn about you?
I go on frequent mission trips to rural central/southern Mexico and teach the importance of oral hygiene to indigenous communities.  I dream to eventually start a traveling dental clinic to serve the communities I've built relationships with over the last five years.