Makayla Gresham
Class of 2020, Doctor of Dental Surgery (DDS) Program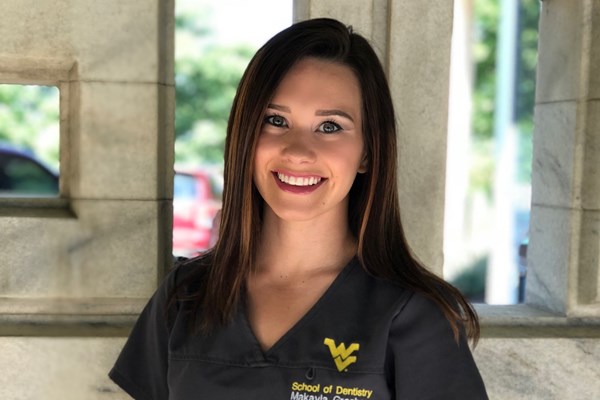 "I appreciate the ability to learn from top oral pathologists. I personally plan to pursue a career in Oral Pathology and their mentorship, one-on-one training, and friendship have made my dental school experience enjoyable and fulfilling."
Makayla Gresham is a native of Logan, W.Va. She earned a bachelor of science degree in Exercise Physiology from WVU. She began dental school in August 2016. Gresham is an active leader with the American Student Dental Association. During her second year of dental school, Gresham was chosen to receive the Rising Leader Award from the American Student Dental Association. She shared her excitement and plans for the future in a dental school news story.
What made you want to earn your DDS?
I saw first hand the oral implications that chemotherapy and radiation had on a close family member and I wanted to be involved in alleviating their discomfort during their treatment.
Why did you choose WVU?
WVU quickly became my second home during undergraduate school, and I couldn't imagine leaving after only four short years! I was so excited when I learned I was accepted into dental school and getting to further my education at my alma mater. WVU School of Dentistry is so small and close knit that I feel like I have a second family here with me every day! 
What particular part of our program has been your favorite and why?
I appreciate the ability to learn from top oral pathologists. I personally plan to pursue a career in Oral Pathology and their mentorship, one-on-one training, and friendship have made my dental school experience enjoyable and fulfilling.
What are you proudest of from your educational time at WVU School of Dentistry?
My proudest moment during my time at WVU School of Dentistry was being named the American Student Dental Association's Rising Leader in 2019. I have been extremely involved in organized dentistry from the beginning of dental school, and to receive accolades from well respected individuals I greatly admire was a truly special honor.
Where will your DDS take you after commencement?
I will attend the University of North Carolina at Chapel Hill for Oral Pathology residency for 3 years. I look forward to a unique training in microscopy and histology beyond the level we were taught in dental school.
What would you tell someone considering WVU School of Dentistry?
The days are long, but the years are short! Sometimes it feels like dental school will never end, but reflecting back with only 87 days until graduation, I'm definitely going to miss all the amazing people I've met here at the school of dentistry!