Katie Fullen
, D.D.S.
Class of 2019, Doctor of Dental Surgery (DDS) Program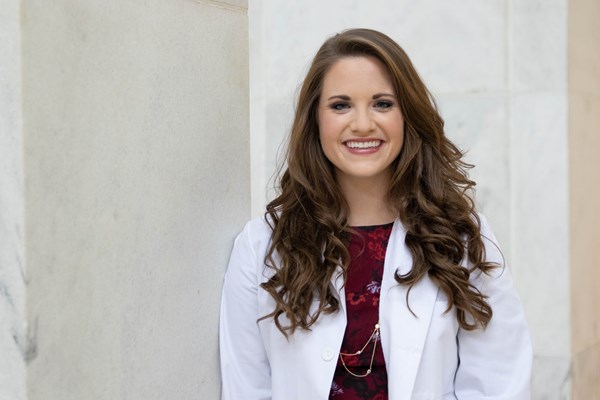 "I am so excited to be starting a residency program in Pediatric Dentistry at the University of Tennessee in Memphis!  I can't wait to learn how to more effectively treat children and patients with special needs through training at UT."
What is your name?
Katie Fullen
Where is your hometown?
Lewisburg, WV
Where did you earn your undergraduate degree and in what?
WVU, Exercise Physiology
What made you want to earn your DDS?
I have always wanted to be a dentist!  I love people, science, and the arts, and dentistry seemed to be a fun way to combine those things in a way that I could use them to really serve people. 
Why do it at WVU?
Why not do it at WVU? After completing my undergraduate degree at WVU, it had become my home. I love the people here, and I have always been so proud to have been educated in my home state. The dental school's smaller class size and close-knit faculty also helped it rise to the top of my list. I felt I would have a more personal education.  I love knowing everybody in the clinic and in the halls!
What particular part of our program has been your favorite and why?
Outreach will always be so close to my heart.  The WVU School of Dentistry does a great job of staying on the cutting-edge of research, and letting the people of the state know what is best for their oral health.  Some of my favorite and most inspiring experiences in dental school have been working with passionate professors on outreach projects and seeing what we learn in class and clinic really effect people and change their lives as we talk with them.  It is always inspiring to be a part of someone wanting to be better version of themselves!
What are you proudest of from your educational time at WVU School of Dentistry?
I found a passion for working with children while treating patients in the pediatric clinic.  One of my proudest moments came after finishing an extensive treatment plan with a young girl who, when I first met her, wouldn't even sit in the dental chair.  Toward the end of her treatment, she was excited to come to her appointments and tell me about her new, healthier habits!  She drew pictures for me of "happy teeth" and called me her "best friend".  Who could say that isn't rewarding and worth it?
What is it like to be providing direct patient care after just 2 years into classes?
It is fun and rewarding.  It is a lot of responsibility, but I felt prepared after our two years of didactic education. Our professors were always there when we had questions to help ensure the best care for our patients.  The hands-on experiences are invaluable to the learning process.
What school related events or activities did you enjoy most and why?
One of my absolute favorite school activities was a dental mission trip to Guatemala. On this trip we were able to take our clinical skills abroad and we provided dental extractions, fillings, and root canals for the people of Guatemala.  They were so grateful for the services that we were able to provide them, and my classmates and I were so thankful for the experience and how warmly they welcomed us into their communities.  It was such a unique experience to be able to learn about their country and their culture.
Describe your rural rotation experience and how you benefited.
I am thankful for the time that was set aside for us to learn from dentists in rural communities in our state.  It was so eye opening to see different ways of practicing and to be mentored by a dentist and work with patients in my hometown.  My rural experience also allowed me to network with dentists in our state. These are all things that will really help me have an easier transition into practicing dentistry on my own.
Where will your DDS take you after commencement and what are you looking forward to?
I am so excited to be starting a residency program in Pediatric Dentistry at the University of Tennessee in Memphis!  I can't wait to learn how to more effectively treat children and patients with special needs through training at UT and multiple children's hospitals in Memphis.  I am so grateful to the dental school for giving me a solid foundation in caring for kids.
What hobbies outside of school do you have?
I love to sing, go to spin classes, be involved in my local church, and I can't get enough of true crime podcasts!
What is something people would be surprised to learn about you?
I grew up on a goat farm. We raised market goats as well as cattle. I learned a lot about life and myself from all my experiences taking care of and showing animals!  I did all my farm chores with my identical twin sister. Most people are surprised to learn I have a twin, since she doesn't go to school with me.

What would you tell someone considering WVU School of Dentistry?
Do it!  It can be tough at times, but that makes it all the more rewarding and worth it. The people here are second to none. I love my classmates and my patients.