Jonathon Logan Hal Williams
, D.D.S.
Class of 2020, Doctor of Dental Surgery (DDS) Program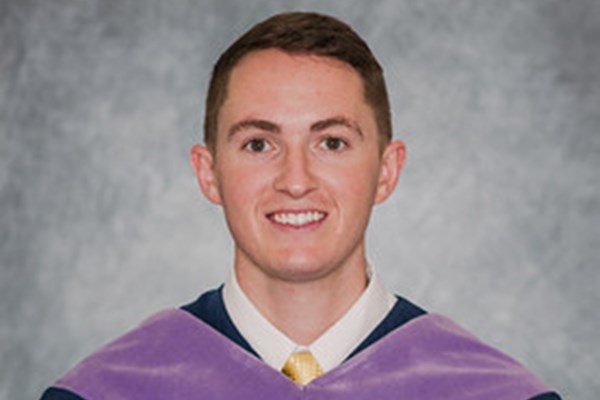 "You will never regret choosing the Old Gold and Blue."
What is your name?
My full name is Jonathon Logan Hal Williams, but I have always gone by Logan. 
Where is your hometown?
I am from Hurricane, WV. 
What did you study and where did you earn your undergraduate degree?
West Virginia University. Bachelor of Science in Exercise Physiology
What made you want to earn your DDS?
I was fortunate to always have positive experiences from my dentist growing up. I swallowed my first baby tooth in a hot dog in the 1st grade and my dentist took the time to talk to the tooth fairy for me and wrote a letter to her explaining what had happened. In the 2nd grade I fell and chipped my front tooth in an after school program and he saw me that same evening after hours to fix it. I still remember smiling in awe at my "new" tooth once he was finished. These experiences influenced me in such a way that I wanted to one day be able to do the same for others leading me to pursue my D.D.S. 
Why do it at WVU?
Having went to WVU for my undergraduate, I had no intentions of leaving. I was fortunate to be friends with a few students that had been in the D.D.S. program for a few years at the time I was applying, and they all gave high praise to the program. It was also an opportunity to help the great people of West Virginia. 
What particular part of our program has been your favorite and why?  
I would say two things. The small class size really made it feel like we were all family. I also really enjoyed getting to interact, treat, and learn from patients the past two years. I found that you can learn far more than just dentistry when interacting with them. 
What are you proudest of from your educational time at WVU School of Dentistry?
I am proudest of the commitment to excellence I felt the faculty instilled in me. Dentistry is mentally taxing as we are always chasing perfection, and that should be the case because we want our patients to have the best possible treatment. I'm proud that I know each time I worked with a patient I gave them my best effort and will continue to do so throughout my career.  
What would you tell someone considering WVU School of Dentistry?
You will never regret choosing the Old Gold and Blue.