Jason Solensky
, D.D.S.
Class of 2022, Doctor of Dental Surgery (DDS) Program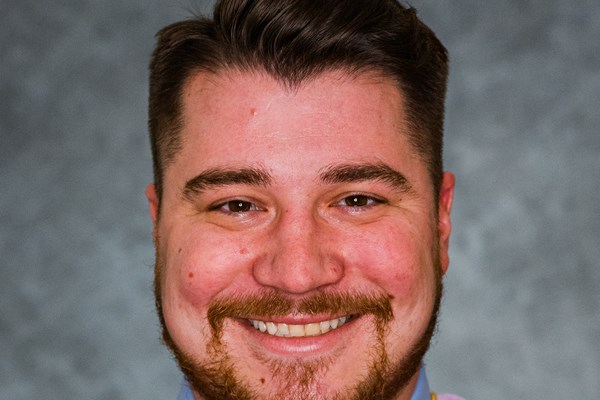 "It's hard to believe four years have flashed by already, but what was once a dream, is now a reality. Thank you WVU and LETS GO, mountaineers!"
Jason Solensky represented the doctor of dental surgery class of 2022 as president. In his commencement address to friends, colleagues, faculty, family and others on May 14, 2022 he congratulated DDS, dental hygiene and master of science students. 
Below are Jay's written remarks. 
Hello everyone, and welcome to West Virginia University. It's hard to believe that nearly 4 years ago, all of us were gathered together as we signed an oath of professionalism that officially started dental school. 4 years later, we celebrate this moment of commencement officially ending our dental school career.
If this is your first time here in the state of West Virginia, or possibly your last, I encourage you to visit a state park or simply pull off at a scenic overlook and take in the true beauty of this state. West Virginia is said to be America's best kept secret. You will find this true in the beauty mountain momma has to offer. Although West Virginia's nature is magnificent, the people and the pride for West Virginia is stronger here than anywhere. It's that same pride that brought us all together 4 years ago and helped build the class of 2022 to who we are today.
After signing our names in the book, we quickly found out there was a lot to learn about teeth. From dental anatomy to Dr. Klinks lectures, studying hours a day was a new norm. After starting 2nd year, it seemed school became our new home, only leaving to eat or sleep. Fun fact, February of sophomore year, we averaged an exam and/or performance assessment 5 times a week, or simply, every day. To be honest, if it wasn't for businesses like Sheetz, Starbucks, and most importantly, Walmart, life would have been much less enjoyable. This group completed all of those exams with flying colors and successfully passed the national board exam with a pass rate of over 95% on both exams, a record not obtained in years. After completing the primary load of the didactic portion, the class was poised and ready to begin patient care.  
After the first few rotations of clinic and a few learning opportunities from Dr. Buegeuno and Dr. Weaver, we began our clinical portion of school, ready to save the world, one tooth at time. We completed extractions, restorations, crowns, dentures, root canals and many other dental services all while completing the curriculum. The normal every day stress of exams now included worrying if you returned all instruments back to Kimmy, forgetting about a lunch meeting, or at the last minute, realizing you have an exam the next morning. Unphased and committed, the class continued on. After completing a rural rotation and finalizing the fundamentals, here we are on graduation day.
Today marks a surreal and bitter-sweet moment. As we have all worked tirelessly, strongminded and dreamt of this graduation. In a few short moments, we will cross the stage and dental school will officially be in the rear-view. Make every effort to never lose touch with each other and always send a Christmas card. I'm sure the school will send you one too with a "please donate message" on the back. Travel with each other, meet as much as you can and treasure new relationships as you move through life. As we graduate here today, we join a community of established alumni. As everyone heads to their new destinations, always remember, this community is by your side. If you get the chance, become an active member and give back. As you depart from Morgantown, never forget the fundamentals, do good and always go with your best judgement in a time of uncertainty. A mission this school has imparted on us. A mission that has prepared us well. And we have you, the faculty, to thank (Can everyone please join in thanking the faculty).
To all faculty, the class of 2022 wants to thank each and every one of you. This is the best faculty dental students could ask for and its constantly shows as we treat patients. You not only taught us all the fundamentals, but taught us a few tricks of the trade while watching us grow into professionals. As faculty retires and new faculty joins, make every effort to include each other like family and continue growing while never losing your passion for teaching and dentistry. Everyone has long stated how this school is known for its clinical training and we can assure you, you have prepared us better than anyone else can in the world, and all of us couldn't have made a better choice than coming to the WVU School of Dentistry.
Finally, we want to say thank you to everyone here joining us celebrate this day of commencement. Without y'all, we wouldn't be here in this moment. From all the late-night stressful calls, care packages, surprise visits and of course lots of great meals, dental school would not have been the same. Over these years, you got to watch all of us grow and flourish into our careers and here today, you get to see our last day as students and our first day as dentists. To our, Moms, Dads, Sisters, brothers, grandmas, grandpas, aunts/uncles, nieces/nephews, best friends and most of all, sons and daughters, we couldn't be more indebted and gratified to say, we hope you made you proud, because fulfilling this lifelong career and attaining our true potential of reaching our dreams was only made possible by you and we couldn't be more humbled, proud and honored to share this moment with you.
Thank you all for attending, congratulations to the WVU SOD Dental Hygiene class along with our dental class on graduation! It's hard to believe 4 years have flashed by already, but what was once a dream, is now a reality. Thank you WVU, for one last time, LETS GO, mountaineers!
Congratulations, class of 2022, you are now officially Doctors of Dental Surgery.