Ian Montgomery Weaver
, DDS
Class of 2020, Doctor of Dental Surgery (DDS) Program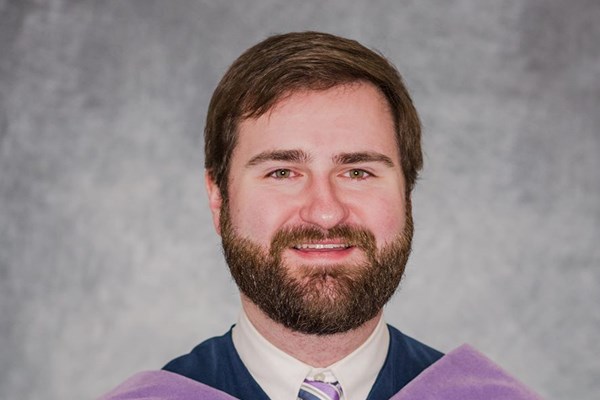 "I've always enjoyed working with my hands. I went into dentistry because I wanted a profession where I could be helpful to people while still doing something aesthetic and artsy. It helped that I came from a dental family. I don't know that I would've made that connection."
What is your name?
Ian Montgomery Weaver
Where is your hometown?
I'm from Charleston, West Virginia.
What did you study as an undergraduate and where did you study?
I graduated from the University of Charleston in Charleston, WV with a major in Biology and a minor in Traditional Art.
What made you want to earn a DDS?
I've always enjoyed working with my hands. I went into dentistry because I wanted a profession where I could be helpful to people while still getting to do something aesthetic and artsy. It helped that I came from I dental family, I don't know that I would've made that connection otherwise.
Why did you choose WVU's dental school?
I've lived in West Virginia for the vast majority of my life. My parents are from West Virginia. I have a very strong family connection to the state and to WVU itself. My dad, uncle and cousin all graduated from the WVU School of Dentistry and had spoken very highly of it. As such, even before interviews went out, I was drawn toward the school. After I got a chance to come around and visit, I found I agreed with their assessments.
What were your favorite parts of dental school?
My favorite parts of dental school revolved around the people. From classmates to patients to faculty, they've all been instrumental in my education and improvement as a provider. I made some really wonderful friends here who've encouraged me to grow both as both a person and a practitioner. I've learned so much from them. The back and forth between us about scenarios and cases we'd seen in clinic helped me to see these cases from angles I wouldn't have thought of on my own.
What do you take pride in from your dental school experience?
I feel that the patient experience we've gotten at WVU is something to be proud of. The sheer amount of time we get to spend in the clinic and interacting with patients and doing procedures seems to be higher than many other dental schools I've heard of.
What is your next step?
Once I've gotten my doctorate, I've decided to specialize in Orthodontics. I've been accepted to the residency program here at WVU where I'll be spending the next three years. As of now, I'm hoping to practice in state afterwards. But, only time will tell.
What is it like to be providing direct patient care after just two years into classes?
It's certainly intimidating to move from procedures on models and manikins to working on real people. But, once you make that change, it's actually a lot more difficult to go back thank you'd expect. I found, while practicing for the board, that working on real teeth was more intuitive and comfortable than working on the model teeth. Once you get the hang of it, it's definitely not as scary as you'd think it was.
What hobbies do you enjoy outside of dental school?
In my free time, I'm an artist. I do mostly digital art. At some point I'd like to write and illustrate my own comic, but I'm a bit of a procrastinator so don't hold your breath.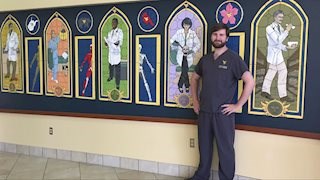 Ian created a "Cathedral of Learning" mural inside the Health Sciences Center near the entrance to the dental clinics.
"This piece is inspired by my love of stained glass windows," he said. "Each window represents a different program: Basic Sciences, Nursing, Medicine, Dentistry and Pharmacy with the nervous, muscular, skeletal and circulatory systems between them. I've used color and symbols to represent basic aspects of each profession for instance, the background colors come from each profession's doctoral hood and the green in everyone's eyes represents a common focus on health care." - Ian Weaver