Hillary Hainer
Class of 2024, Doctor of Dental Surgery (DDS) Program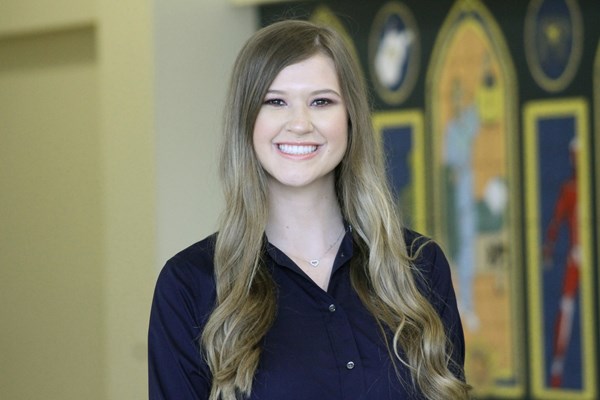 "I understand some of the unique challenges that students living in rural areas face related to dental care and education. I feel a heightened sense of responsibility to educate patients and contribute to rural communities of West Virginia and beyond."
Hillary Hainer is a member of the DDS Class of 2024. As a first-year student, she partnered with classmates in her public health course to develop a service-learning experience focused on West Virginia youth. 
"My family and I travelled over an hour to visit the dentist, and I remember receiving little to no education regarding cavity formation and the role of nutrition on this process, particularly in a school setting," Hainer, a Chapmanville, WV native, said.  "As such, I understand some of the unique challenges that students living in rural areas face related to dental care and education. For this reason, I do feel a heightened sense of responsibility to educate patients and to contribute to rural communities of West Virginia and beyond."
Hainer and the other group members developed a presentation, to be delivered virtually, to students at Summersville Middle School in central West Virginia. The dental school students chose to focus on the development of caries, nutrition and snacking habits and tobacco use. 
"The service-learning experience was very beneficial to my understanding of how best to communicate these issues with an adolescent population. I really enjoyed working with my classmates to produce a presentation that discussed topics that were relatable to middle school students, using age-appropriate vocabulary and activities," Hainer said. 
Summersville Middle School students were engaged and showed excitement to participate. The students also asked thought-provoking questions at the conclusion of our presentation, which demonstrated both their interest and understanding of the material.
"Their learning and positive feedback confirmed that my group members and I successfully addressed a community need. I found the experience to be incredibly rewarding, and I look forward to continuing to engage in patient education throughout my time at the WVU School of Dentistry, and as a dental practitioner," Hainer said. 
Hainer and her classmates plan to share their presentation with other middle school students around the state as part of their community service outreach. 
"This project was a true joy to be a part of, and I am so excited to continue making an impact on our state's youth and their oral health," Hainer said.