Grace Garcia
, D.D.S.
Class of 2018, Doctor of Dental Surgery (DDS) Program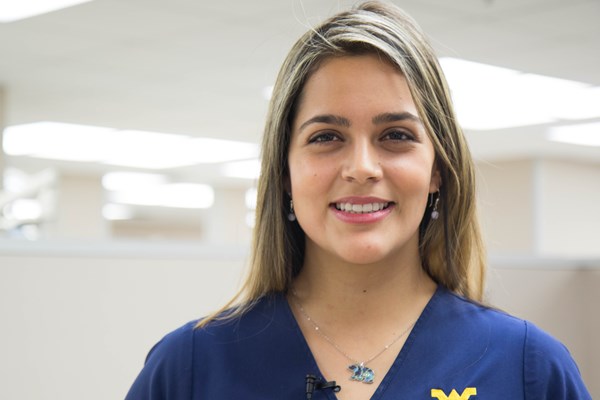 "I've learned a lot. I still have a lot more to learn, because it's a learning experience, and I'm sure every day I'll learn something new."
How did you choose WVU and Morgantown?
Well, when I was finishing my undergrad at the University of South Florida, I started to do some research about different dental schools. I remember talking to a friend, and he told me he did some research about West Virginia. He said, "You know, there's actually a pretty good dental school. They have a pretty good program, because from what I've heard and what I read, they actually prepare really good clinicians. They get to do a lot more, compared to some other dental schools." So I said, "You know what? I'm going to go ahead and give it a chance. I'm going to apply, and see how it goes."
And you've been here!
I've been here, and I'm very happy. I think I made the right decision, and I feel very confident about what I've learned here and what I've done so far.
What will you always remember about the dental school?
Really, I think for the past four years, everyone here has become my family. All my classmates, the professors, the people that help us everywhere, the assistants. You see them every day. You kind of say, "Hey, how are you? How's your day going?" They become part of your family, so I think that's one of the things that I'm really going to miss a lot and one of the things I'm going to always remember about being here.
What would you tell yourself as a freshman?
Don't be discouraged. There is going to be ups and downs. There is going to be some days where you're going to feel like you cannot make it, and you're going to feel like you want to quit. But you are (going to make it). You just have to continue to remind yourself of what you're capable of. We have a great support system. So, always try to stay surrounded with your friends. If you need help, go ask for help. Because people, that's what they're here for. To help you out. It's going to be hard.  There are going to be a lot of bumps in the road. But you're going to make it, so don't let that put you down.
What's next for you?
I'm going be in West Virginia for a couple years. I'm going to be here, working on a rural site. I think being on my rural rotation for six weeks actually kind of opened my eyes and made me realize that that's where I wanted to go after graduation. I feel like there's so much need for dental professionals in the rural sites, and there are very few people going out on rural (clinics/practices). So I feel like in a way, to me, going back to serve the community is kind of my way to give back to West Virginia for the opportunity of being here.
I feel like I'm ready to go. I feel like I've learned a lot. I still have a lot more to learn, because it's a learning experience, and I'm sure every day I'll learn something new.
What brought you to dentistry as a profession?
Ever since I was in Colombia, since I was little. We probably didn't have great access to the dentist because we kind of came from a low-income family. My mom was one of those (people) who always struggled with her teeth. She had some periodontal disease, and as a consequence of that she ended up losing some of her teeth. I always felt like I wish I could have done something at that point, but obviously I was little. I couldn't. So I always grew up thinking, there's going to be more cases. More people like my mom, who are going to need someone there to help. And so, it was always in my mind. I want to become a professional. I want to become a great dentist, and be able to help people like her.
How cool has that been to say, "This was my goal. I'm treating you"?
It's unbelievable. And, you know what? The funny thing is that my mom has always been very scared to go to a dentist. She's very anxious. She's very shy. She didn't want anyone to look at her teeth. And I'm like, "Mom, this is what we're here for, you know? You have to trust me and trust the people I'm working with. We're going to give you a great smile." Since the first appointment, her confidence has improved so much.  Before, she wouldn't even smile in a picture. She was always trying to cover her smile, and now she's always smiling, and taking selfies, and taking pictures here and there. That makes me very proud. It makes me very happy. It makes me feel like everything I've done is definitely worth it.