Brennan Wood
, DDS
Class of 2019, Doctor of Dental Surgery (DDS) Program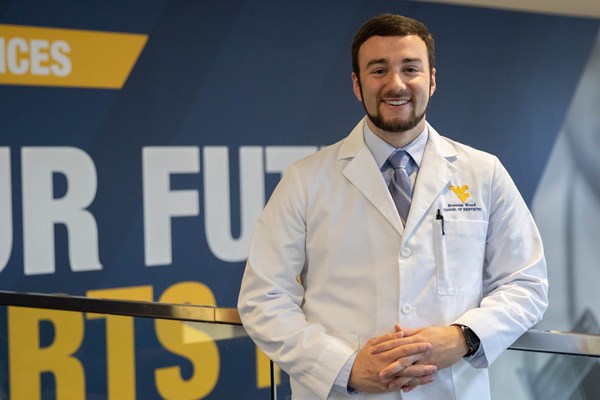 "Being able to see the impact of dentistry on my patients' lives has been my favorite part of my time here at the WVU School of Dentistry. It is amazing how a new smile and functioning dentition can truly change a person's life."
What is your name?
Brennan Wood
Where are you from?
Alderson, WV
Where did you earn your undergraduate degrees?
WVU
Exercise Physiology (B.S.) 2015
Music (B.A.) 2015 
What made you want to earn your DDS?
From the 4th grade on, I knew I wanted to become a dentist as my career profession. I wanted to earn my DDS at WVU because I have always planned on practicing in the state of WV, so there was no reason to leave the state and my alma mater to pursue a degree. Also, there was no place I'd rather attend. I am a mountaineer and bleed blue and gold. 
What particular part of our program has been your favorite and why?
Being able to see the impact of dentistry on my patients' lives has been my favorite part of my time here at the WVU School of Dentistry. It is amazing how a new smile and functioning dentition can truly change a person's life. 
What school related events or activities did you enjoy most and why?
I enjoyed participating in organized dentistry the most. Being involved in organizations such as the American Student Dental Association and Delta Sigma Delta International Dental Fraternity showed me the importance of interacting with other colleagues in dentistry. Through continuing education courses or sharing experiences and ideas, being able to communicate with other students and dentists from around the world has played an instrumental role during my four years of dental school. 
Describe your rural rotation experience and how you think you benefited.
My rural rotation experience was very beneficial as it provided me an opportunity to work for my future employer for 6 weeks almost like a trial run. Being able to be in my home county and work for six weeks not only provided me an example of how it will feel to serve my community as a dentist, but also opened my eyes to the challenges and rewards of running a business as well as practicing dentistry every day. 
What would you tell someone considering WVU School of Dentistry?
WVU School of Dentistry has provided me an invaluable education and experiences during my four years here that I know I would not have had at another university. Being one of three schools in the nation to have the luxury of our Innovation Center allowed me the opportunity to learn about and use cutting-edge materials and technology in dentistry that I would not have been able to do elsewhere. Also, being a part of the Health Sciences Center gave me opportunities to be immersed in Interprofessional Education as we are constantly involved with Medical, Pharmacy, Physical Therapy, Occupational Therapy, Nursing, and numerous other students and majors within the Health Sciences Center.