Bailey Hollihan
Class of 2021, Doctor of Dental Surgery (DDS) Program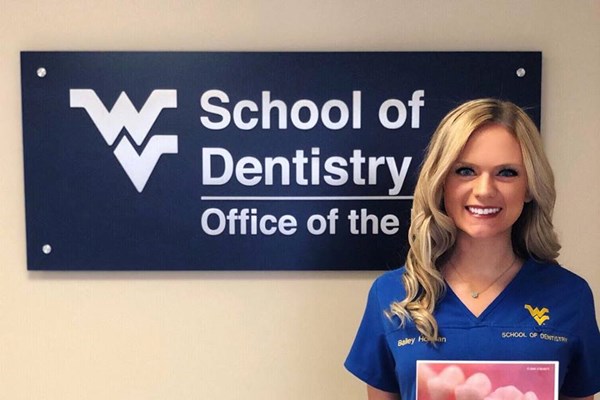 "I found many Americans struggle with low health literacy which prevents them from understanding doctors' orders and contributes to poor health conditions. The goal of my article is to bring a greater awareness to the subject. Knowledge is the first step in bringing about change."
The journal Dental Hypotheses published an article from a second-year student at the West Virginia University School of Dentistry in a fall 2019 publication.
Bailey Hollihan, while studying at the University of Dayton, noticed a disturbing and concerning issue for patients.
The Pittsburgh native learned the nation's illiteracy rate can have a negative impact on patient treatment and patient understanding.
More than 32 million adults in American are illiterate.

Hollihan found low health literacy is a result.  Patients may have trouble reading information on their conditions, treatment plans and other vital health information.
"I found that many Americans struggle with low health literacy which prevents them from understanding doctors' orders and often contributes to poor health conditions (like high blood pressure, diabetes and HIV/AIDS)," Hollihan elaborated.

Hollihan said the goal of her article isn't to provide a solution to the health literacy crisis. She does, however, hope to bring greater awareness to the subject. 
"Although it is just a small start, I am excited to say that my writing on health literacy was published in an international medical journal," explained Hollihan.
To see the October-December 2018 issue that includes contribution from Hollihan, visit the Dental Hypotheses website.