Angela Pelehac
, DDS
Class of 2019, Doctor of Dental Surgery (DDS) Program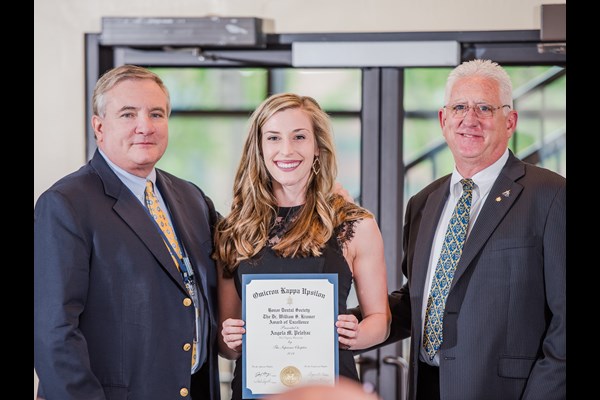 "As a teen, my front teeth were misaligned which made me self-conscience to smile. I begged my parents to let me get braces. I loved every bit of my orthodontic treatment. The alignment of my teeth restored my confidence, and I wanted to be able to help others achieve the same."
What is your name?
Angie Pelehac
Where is your hometown?
Republic, Pennsylvania
What made you want to earn your DDS?
As a teenager, my front teeth were misaligned which made me self-conscience to smile. I begged my parents to let me get braces. I loved every bit of my orthodontic treatment. The alignment of my teeth restored my confidence, and I wanted to be able to help others achieve that same feeling by restoring their smiles.
Why do it at WVU?
Not only is WVU a short drive from my hometown in Pennsylvania, but my sister is also an OT alumni so it was a no-brainer that WVU would be my next home!
What particular part of our program – clinic experiences, innovation center, outreach, class size, etc. – has been your favorite and why?
For me, the best part of the DDS program at WVU is the small class sizes. I graduated from a small high school and a fairly small college, so I like that I was able to continue with that theme. As a result, I got a lot more one-on-one time with instructors, and I was able to really get to know each one of my classmates.
What are you proudest of from your educational time at WVU School of Dentistry?
I am most proud and incredibly grateful for being selected to receive the National Health Service Corps Scholarship during my last two years of dental school. This scholarship will give me the opportunity to work in public health following graduation. I believe that my experience with treating a medically underserved population here at the WVU School of Dentistry made me stand out as a candidate in the applicant pool.
What school related events or activities did you enjoy most and why?
My favorite school events were our class lunch meetings with Dr. Wanker because Rosemary's (Dr. Wanker's wife) homemade brownies are OUT OF THIS WORLD!
Describe your rural rotation experience and how you think it benefited you.
The biggest benefit of my rural experience that I noticed was an increase in my speed. At the dental school, a student usually sees a maximum of two patients per day. On rural, I saw anywhere from 5-8 patients a day. I noticed my speed increased when I returned back to the school. In the time it used to take me to prep and temporize one tooth planned for a crown, I was able to prep and temporize three teeth.
Where will your DDS take you after commencement, what are you looking forward to? 
I have accepted a job in public health following graduation.  I will be moving out to Wisconsin to soon become a cheesehead. I am most excited about having a full-time assistant on my team so I no longer have to be a contortionist while providing patient care.
What hobbies outside of school do you have?
I grew up playing sports. When my college tennis career ended, I picked up weight lifting and fell in love. Health and fitness has since become a lifestyle.
What is something people would be surprised to learn about you?
I played Division II collegiate tennis during undergraduate school and competed at #2 singles and #1 doubles.
What would you tell someone considering WVU School of Dentistry?
When I was at my job interview, the interviewers were very impressed with the hands on clinical experience I had. If you are looking to become a great clinician, look no further than the WVU School of Dentistry.