Alumni Spotlight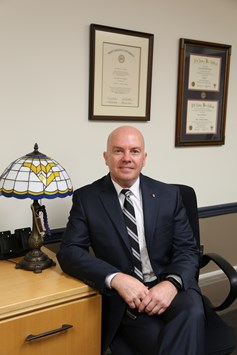 Get to know Richard W. Thomas ('86 DDS, '94 MD), who became the sixth president of the Uniformed Services University of the Health Sciences in 2016.
Thomas is a retired Army major general. He was deployed for Operations Just Cause, Enduring Freedom and Iraqi Freedom, and he served as commanding general of Western Regional Medical Command, surgeon general for the U.S. Forces-Afghanistan and senior medical adviser for the international Security Assistance Forces Joint Command-Afghanistan.
Favorite college memory?
All of my memories from college are about people. The best memories – the ones that stay with you – are about the people. I had friends and some instructors who were very influential, and I have fond memories from the courses I took.  In particular, I remember Chester, who was a counselor who also taught biology. He was a great guy! There was M.O. Coover – and Bill Bonsall, who was my physical education instructor. He was a former prisoner of war and Olympic gymnast. Talk about a fascinating individual! I also remember walking to the Mountainlair and in the square seeing the mast and ship's bell of the USS West Virginia, which was sunk at Pearl Harbor.
What was the most challenging part of dental school?
Between patient management and lab work, there were definitely more demands on us than there were on students at other dental schools. At the time, I thought it was more than was necessary, but later I felt that it was exactly those demands that made sure we were fine practitioners. All of those stringent demands were worth it. WVU was considered the "gold (standard) school."
What was it like attending dental and medical school? How did those experiences prepare you for the military, higher education and life in general?
I was very happy that I did things the way I did. I was very well educated at WVU, which led to more opportunities and experiences for me as a young Army dental officer than would normally be expected. Those experiences drove me into medicine ... Without the dental background and my military experiences, I wouldn't have come to that conclusion. After graduating from medical school, I was obligated to the military, so I went back and completed a general surgery internship and ENT residency, and I was well prepared for that because of the strong educational foundation.
Any tips for incoming health sciences students?
Keep an open mind to opportunities. It's okay to change your mind with your specific area of medicine. It's a team sport. Doctors, dentists, nurses, techs, therapists, administrators – it takes all of them working together to take care of patients. Make sure you have the opportunity to be exposed to all of it.
Do you ever get back to campus?
Oliver Luck (former WVU athletic director) invited me there to meet and address the football team about three years ago. Two years ago, I was there to commission ROTC graduates, which was the second time I had done that. It was impressive to see how the University has continued to grow and expand. It's still growing, but it still has that small-town college feel to it. There is an intimacy to the campus that large schools lose.
I'm proud to be a Mountaineer because...
West Virginia and West Virginia University have a proud heritage – a long lineage of service to our nation. Mountaineers have served our nation in peacetime and at war for as long as we've had a country, and that tradition continues today. When I was deployed to Iraq, the National Guard was there. They were set up in tents. In one tent was a Guard unit from West Virginia. On one side of the tent, part of the unit was flying the Marshall University green. The larger part of the unit was flying WVU colors. No matter where I've been in the world, inevitably, I see someone with a Mountaineer tie.