2022 Renovation Planning
Schematic Design
The SmithGroup is a firm made up of architects, engineers, designers and planners who have led higher education renovation and development plans across nationally and internationally. They are experienced in improving or building brand new oral healthcare schools and facilities in Indiana and Michigan with other health facilities in states across the country including California, Colorado and Texas. 
SmithGroup developed schematic designs for the next phases of renovations which will include focuses on pediatric dentistry, orthodontics, the Biddington Innovation Center, faculty group practice, a surgical suite, specialty clinics and administrative and academic offices.
The image below depicts the proposed new layout within the School of Dentistry. 
It should be noted drafts of renderings such as those below are subject to change as projects progress.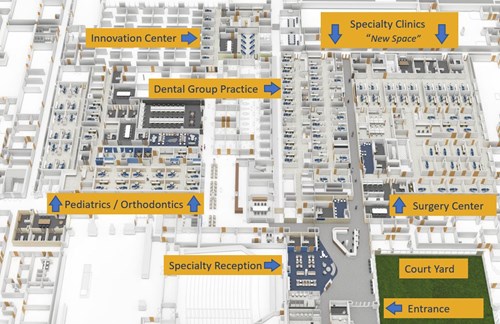 For directional purposes, the court yard and entrance are located between the School of Dentistry and cancer clinic.