Tobacco Treatment Training Program
About the program
The Certified Tobacco Treatment Training Program (CTTTP) fills a need in the Mountain State, which has one of the highest tobacco use rates in the nation. The goal is to train healthcare providers to treat tobacco use and dependence with evidence-based tobacco cessation strategies that providers take back to the communities they serve.
Tobacco Treatment Specialists are trained to provide effective, evidence-based interventions for tobacco dependence across a range of intensities. Specialists work in a variety of settings including hospitals, community health centers, medical and dental practices, educational settings, social service agencies, treatment centers, quit lines, mental health centers. In addition to providing treatment, specialists educate others about tobacco dependence treatments.
Continuing education courses
West Virginia University School of Dentistry's Certified Tobacco Treatment Training Program and the West Virginia University Office of Interprofessional Education coordinate training sessions for professionals in the fields of education, dentistry, medicine, nursing, pharmacy, public health, and social work.  Participants earn a Tobacco Treatment Specialist (TTS) certificate to provide effective, evidence-based tobacco treatment interventions to assist with tobacco use disorder interventions. 
This Tobacco Treatment Training Program is recommended for counselors, educators, dentists, dental hygienists, nurse practitioners, nurses, pharmacists, physicians, physician assistants, respiratory therapists, social workers, other providers who encounter tobacco-using clients/students seeking abstinence.
Prerequisites and certification
Prerequisites for the Tobacco Treatment Specialist (TTS) program include a minimum of an associate degree and licensure or certificate in a healthcare profession or in education. CTTTP consists of a minimum of 24 hours of education which utilizes case-based discussions, interactive lectures, problem solving, role playing, and a written final comprehensive examination.
Every two years, TTSs must take 16 hours of tobacco related continuing education credit to maintain their certification. As a certified TTS, they will use evidence-based tobacco cessation strategies to assist their patients and clients to quit tobacco use.
Training goals
Throughout the Tobacco Treatment Training Program, lectures, role playing and case presentations are utilized to discuss pharmacological and counseling interventions with patients interested in tobacco cessation. 
Participants who successfully complete the WVU School of Dentistry's Tobacco Training Program can:
understand the science behind tobacco addiction, and nicotine withdrawal symptoms.
inform clients/students about the consequences of tobacco use disorder.
develop effective, individualized tobacco use disorder treatment plans for all types of tobacco and nicotine use.
track abstinence progress and outcome measures
educate other providers and the public across a wide-range of settings.
Part of our curriculum
The Council for Tobacco Treatment Training Programs  granted accreditation to West Virginia University's dental school where trainers began offering certification courses in 2018. 
The CTTTP strategies are now integrated within dental, dental hygiene, pharmacy and physician assistant curricula at West Virginia University. Members of the dental hygiene and physician assistant classes of 2022 were the first students to graduate as certified tobacco treatment specialists.
Earning a badge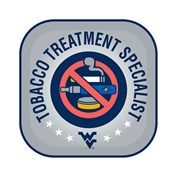 Pursue a micro-credential in treating tobacco-use addiction and be eligible for a WVU Badge. 
A micro-credential and WVU Tobacco Treatment Badge are components to show patients, employers, students and others you have invested additional time beyond your degree to learn specific skills in tobacco cessation and treatment of tobacco and nicotine addiction. 
Upon completing the required criteria, you can tout your tobacco-use treatment skills by displaying your badge on social media sites, performance evaluations and resumes. It is another element to set yourself apart from other job candidates or colleagues.
Required Criteria:
Full participation in the WVU School of Dentistry's Certified Tobacco Treatment Program (24 hour course)

Achievement of a minimum score of 80% on the WVU Tobacco Treatment Specialist Certification Examination

Proclamation of a tobacco-free lifestyle
Learn more about course outcomes on the tobacco treatment specialist badge page. 
Learn more about the overall WVU badge program.