Join the faculty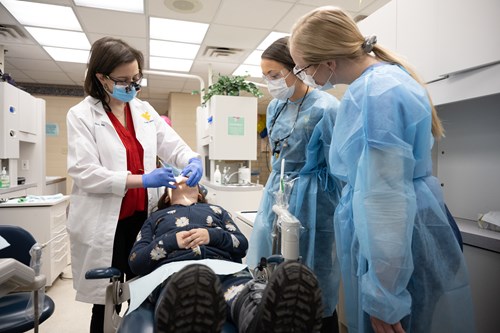 Teach, Guide and Mentor
Has your passion for patient care inspired you to influence the next generation of oral healthcare professionals? Do you want to introduce aspiring dentists to a career of service and fulfillment? Do you have the desire to work in a fast-paced, clinic setting, large health sciences center and academic teaching hospital? At the West Virginia University School of Dentistry, we strive to be the dental school of choice for faculty as we continue to shape the future of dentistry and education. Potential candidates can always search WVU School of Dentistry careers here for active and current faculty opportunities.
Be a Mountaineer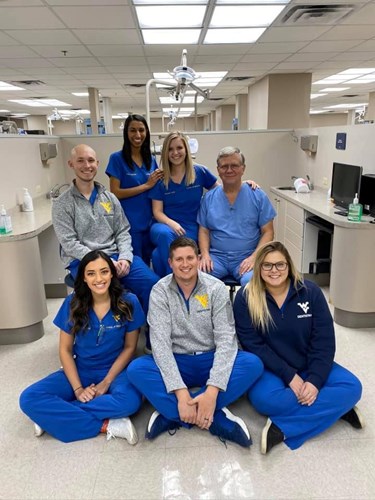 Instructors have access to a dental innovation center for teaching and treating patients and state-of-the-art technology including a robot to aid in dental implants, a pan/ceph machine, 3D printers and cone beam computed tomography imaging devices to achieve oral healthcare education goals in the classroom and clinic. Our advanced curriculum allows faculty to teach unique specialties like laser dentistry, oral appliances and sleep apnea and Botox treatment. Our employees exhibit our Mountaineer values of service, respect, curiosity, accountability and appreciation. Veteran professors, some with decades of dedication to the school, team with up-and-coming experts in dental education to offer a diverse teaching and learning environment. Small class sizes in both our DDS and Dental Hygiene programs allow faculty members to develop professional relationships with students long after they complete their degrees.
Explore WV and Beyond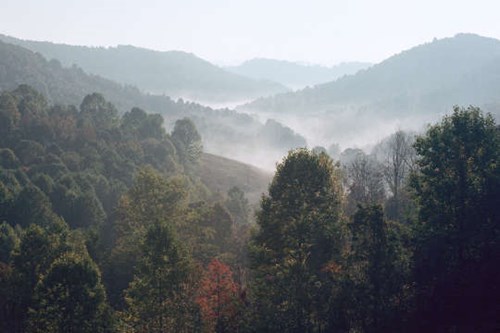 Located in North Central West Virginia, residents enjoy year-round adventures scattered across the peaks and valleys created by the Appalachian Mountains. While outdoor lovers can get their adrenaline fix whitewater rafting, snow and water skiing, boating, hiking and rock climbing, faculty who prefer fine arts, history, museums and performances are also at home when they come to WVU. The university's Creative Arts Center hosts exhibits, musicians, artists and speakers. Historical sites chronical our Appalachian culture, capturing the state's involvement in the Civil War, mining protests and wars, a railroad boom and more. And, within a short four-hour drive or less, residents can visit metropolitan areas including, Baltimore, Cleveland, Washington, DC, Pittsburgh and Annapolis.
WVU Careers Required Notices
WVU Medicine Equal Opportunity Employment and Rights