The Campaign for Facilities
Transforming Oral Health
With help from alumni and friends, the next generation of West Virginia dentists and dental hygienists will be trained in radically modernized facilities. We are making monumental structural improvements to transform our space for oral health education and patient care. We strive to renovate, advance, improve, enhance, modernize and innovate.
Current
Urgent Care Clinic and waiting room makeover
Reception area update and expansion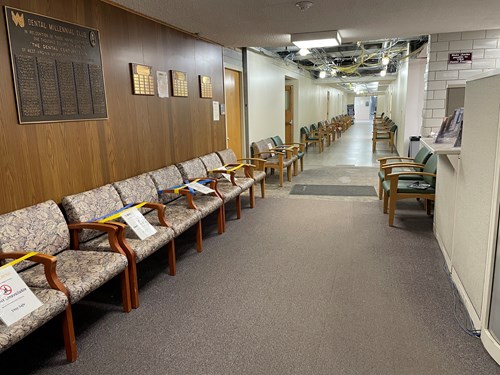 Future
Expected completion Spring 2021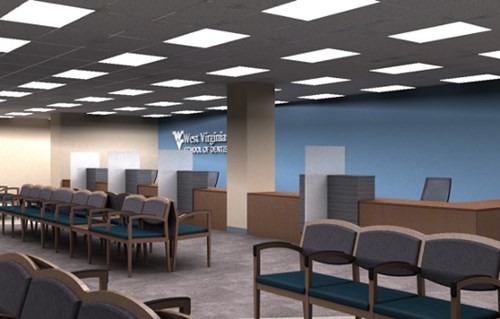 Capital Campaign for Facilities
Multiphase facility upgrades will require over $10 million in investment.
The project is being executed in three phases:
Phase 1 is the creation of offices for Diagnostic Sciences and financial staff from Clinical Affairs.  Expected completion is early Spring 2021.
Phase 2 is the renovation of the Urgent Care and Radiology clinics, with expected completion in June 2021.
Phase 3 is the renovation of the Reception and Waiting areas with expected completion in early August 2021.
Follow the progress
Building the Future
Individuals and businesses interested in supporting the School of Dentistry's capital campaign should contact Director of Development Karen Coombs at 304-216-3784 or kcoombs@wvuf.org. Naming opportunities are available for those who wish to honor a loved one's legacy or explore other options.
Long-term Planning
As design plans continue to evolve, other areas that will see transformation and upgrades include:
Dental Hygiene
Pediatrics
Oral Surgery
Periodontics & Prosthodontics
Endodontics
Changes may include services currently provided at Suncrest Towne Centre – Faculty Practice, Orthodontics and the Dr. W. Robert Biddington Center for Dental Innovation.