Picture Yourself Here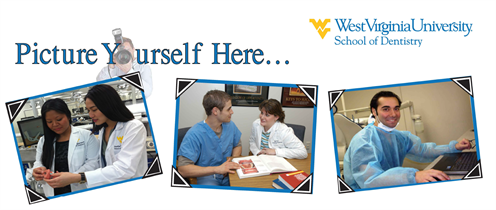 Take a look at what dentistry has to offer YOU!
Variety-Dentistry is a rapidly changing profession involving detection of diseases, diagnosis, treatment, esthetic
improvement, surgical restoration, and public education and prevention.
Creativity-Dentists are artists as well as scientists.
Prestige-Dentists provide an essential health care service and are highly respected within the community. As healthcare providers, dentists have an important role in helping their patients stay healthy.
Security-The average income of a dentist is in the highest 5% of U.S. family income, and the demand for dentistry continues to grow.
Personal Satisfaction-A career in dentistry is personally fulfilling. Dentists perform an important public service to help people maintain their health and appearance.
Here are some key personal characteristics that will lead to success in dentistry ...
Dentists should:
be committed to a lifetime of learning
possess strong communication skills
like to work with their hands
possess high moral and ethical character
enjoy working with people
be devoted to maintaining and promoting the health of people
Here are some suggestions to help you start dental school preparation while in high school ...
9th or 10th grade
Manage your time wisely and develop good organizational skills.
Enroll in biology, algebra, and chemistry courses.
Challenge yourself! Be sure the courses are "college prep."
Talk to dentists in your community.
Get involved in school and community activities.
Register to take either the ACT PLAN* (American College Test PLAN) or the PSAT/NMSQT** (Preliminary Scholastic Achievement Test/National Merit Scholarship Qualifying Test) in the lOth grade. This will help you identify areas for improvement and familiarize yourself with the test format.
Scholarships are everywhere, so ask your guidance counselor about them and search websites.
11th grade
Continue to take challenging courses, especially math and science, and explore dental career options.
Explore Advanced Placement (AP) courses because with good grades, you may receive college credit.
If you have not already done so, take the PSAT/NMSQT in October to help identify areas that need improvement. Good scores may qualify you for scholarships.
Search websites for information about different colleges. All colleges are not the same. Explore your options.
Plan to attend at least one college fair.
Visit the guidance office often to see when representatives for the colleges you are interested in will be visiting your school.
Take the SAT and/or the ACT in the spring.
Continue to check into scholarships.
Visit your top college choices the summer before your senior year.
Visit and talk to dentists in your community to learn more about their careers.
12th grade
Continue to excel in school!
Take or retake the SAT and/or ACT (early fall is best).
Send your college applications in early and be sure to provide all requested materials.
Continue community service activities.
In high school, you need to begin thinking about college. A college education will help you take charge of your future. But, it takes some planning and preparation. Don't wait! Now is the time to plan ahead.
Office of Dental Admissions and Recruitment
POBox 9407
Morgantown, WV 26506-9407
(304)293-1680
dentaladmit@hsc.wvu.edu