Rapid Rehousing
The WVU School of Public Health Rapid Rehousing Program
The Rapid Rehousing program is a temporary program providing short-medium term financial assistance to individuals experiencing homelessness or who are at imminent risk of becoming homeless.  This program serves as a bridge to long-term stable housing.  We aim to assist individuals and families in being quickly rehoused and stablized. We utilize the Housing First approach to connect individuals and families experiencing homelessness to housing without preconditions and barriers to entry.
Clients are active in their own case management, participating in the process by meeting monthly with a case manager.  Case Managers assist clients in budgeting, life skills, benefits assistance, advocacy, etc. Our program also works with landlords to ensure housing standards are met.  Once determined to be eligible for services, clients may receive financial assistance for rent, utility deposits and payments, security deposits, moving costs, and/or hotel/motel vouchers.
Assessing Eligibility
Potential clients must meet the HUD definition of homeless and lack the financial resources and support networks needed to obtain and remain in housing. Any individual or family provided with Rapid Rehousing financial assistance will complete an initial consultation with a case manager, who can assist them in determining the appropriate type of assistance to meet the client's needs.
For more information about our services, please contact our office at 304-293-7486.  You can also call our toll free number at 877-231-7486.
Service Area
Our service area comprises the following West Virginia counties: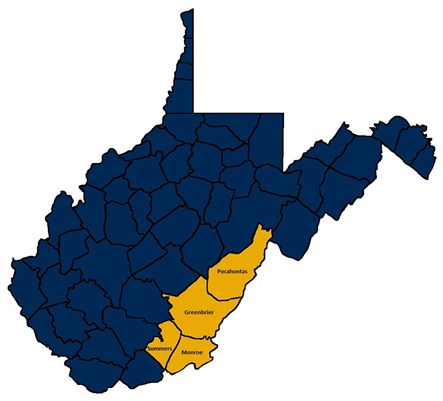 Greenbrier

 

Monroe

Pocahontas

Summers
Services Provided
Assessment

Individual Service Plans

Case Management

Budgeting

Life Skills

Benefits Assistance

Benefits Advocacy